If you're have trouble figuring out how to schedule a call, here are the necessary steps to schedule one.
As a reminder, every call is free and we don't charge anything on them.
1.) If you've created a brand new profile, there will be a schedule a call button at the end. If you've already created your account, go to the bottom left side of your dashboard and select 'FitBUX Coach'.
2.) From here, you'll see a "We're Here to Help" section.  Click on the 'Schedule a Call' button.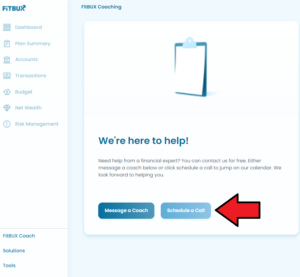 3.) You will then be able to pick the time/date that works best for you.  We'll be talking soon.