You might be in a situation where you spend money for your work but plan on getting it reimbursed/refunded.  Or maybe you purchased textbooks and are wondering how to mark the expense ??? with how that affects your plan in your FitBUX Profile.
Below are the steps to add those transactions into your profile.
1.) Click on 'My Plan' at the top and then click on 'Manage Transactions'.

2.) Click on 'Add Transaction'.

3.) Fill out all the necessary information and at the bottom there is a 'Mark as Refund/Reversal' button to check mark and click 'Add'.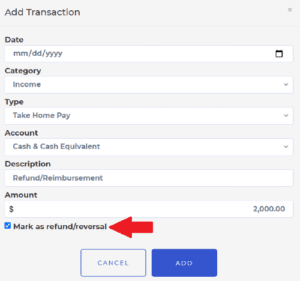 4.) If you marked it as an expense then that's all the necessary steps.
5.) If you marked it as income, then another step will come up to where you can manually add or if you already have a transaction to add it to you can just build off that.