If you wanted to manually track your accounts, you'll probably want to know how to edit and change numbers. This is something you'd have to keep track of and change every time you pay off a little bit of your debt or your bank account.
1.) On the left hand side of the screen, click on the '+'next to Asset or Debt. In the example, I clicked on Asset.

2.) This will expand and click on whatever account you want to edit. I clicked on the savings account at $18,000. You will see a pencil icon.
3.) Once clicked on account, go ahead and change the balance to whatever you need it to be. I changed mine to $16,000 from $18,000.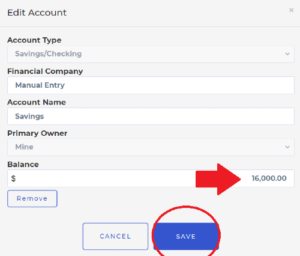 4.) Click 'Save' and you'll see the updated amount in the box.