Sometimes you'll want to build a financial plan looking at both of your combined finances, whether you are married, engaged, or you've been dating someone for a period of time.
At FitBUX, we know this may be extremely important. Therefore, we give you the ability to create a household account that incorporates you and your significant other.
Below is a step-by-step guide on how to do this…
1. On the dashboard, look to the bottom left corner of the screen, and click 'Settings'.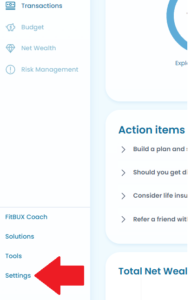 2. On this next screen, a few rows down you'll find a section that gives you the option to 'Add a Spouse'.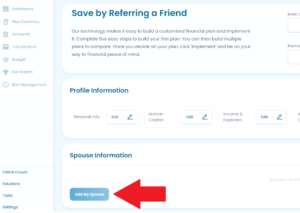 3. From here you will be given the option to manually input their information or if they have a FitBUX account, you may link their account if you wish. If you click the 1st option to manually add account, you'll be able to give a bit more information about your spouse.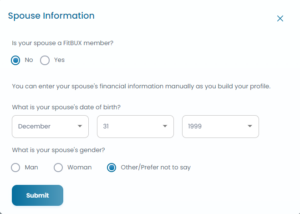 4. The other option given is if your spouse already has a FitBUX account. You can link the account by inputting their login information.